News
Saturday, December 1st, 2018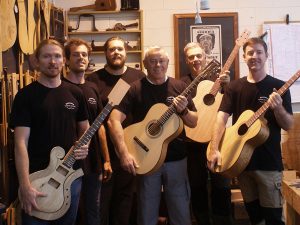 The Winter 2018 Hancock Guitar Making Course was intense and rewarding. This post is rather late sorry, coming months after the course finished! We've neglected to keep up with our news.
August was the first time we have offered the 'Custom' option and we had two participants take this option, one acoustic and one electric guitar.
It was a full house with 4 students, and a full-on great time for all involved. The instruments were some of the most diverse we've seen including a fully customised electric and an acoustic bass for the first time.
Thank you Ben, Jeff, Mark and Tony for attending. It was a pleasure to spend time with you all!
We were happy to receive this email from Jeff who attended –
Hi Sean & Dane,
Sitting on another flight this morning wishing I was starting a new build. I just wanted to send a couple of photos through of my guitar at home – survived the baggage handlers 😁.
Everyone at home just blown away with how fantastic it looks. I'll get to play it again next week – can't wait. Still a little gentle with it at the moment as it is in mint condition.
Thanks again guys for your guidance, patience and friendship. It was an outstanding experience and like the rest of the boys, I'm sure, I'm already thinking of the next project – Uke maybe??
Yours with still sandpaper stiff fingers,
Jeff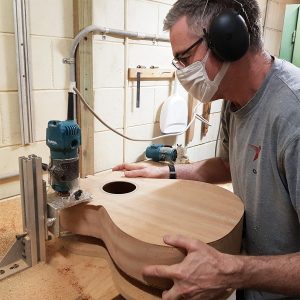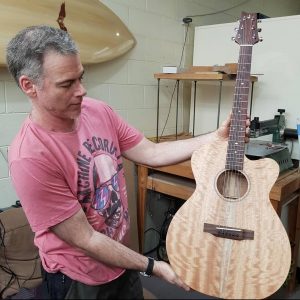 ---