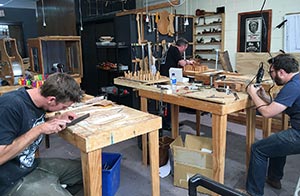 The Workshop
What better place to build your first guitar than in a professional guitar making workshop.
The venue for the Hancock Guitar Making Course is the same workshop where we build guitars the rest of the year. It is a purpose-build workspace for making guitars and is fully equipped with every necessary tool and jig from specialist luthiers tools and fine hand tools through to large woodworking machines.
There is a kitchenette in the workshop with a sink, refrigerator, microwave and kettle for your use. Lunch is never hard to find with plenty of takeaway restaurants, cafes and a supermarket within walking distance.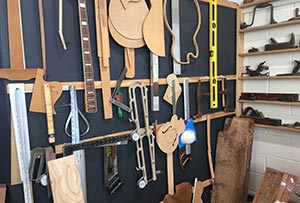 Tools Templates & Equipment
Our workshop is very well equipped with everything needed to build a guitar. You may decide to bring your own tools but there is no problem if you don't, we have several sets of tools on hand for you to use. The only things that are mandatory to bring are a dust mask, ear and eye protection and a lot of enthusiasm.
Though it is not required you may decide to purchase your own set of lutherie tools to use at the course. We will provide a list of recommended tools before the course and can also supply the tools and have them ready for you to use when you arrive at the course.
The equipment available for your use during the course includes –