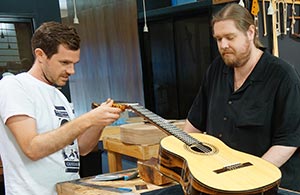 During the past 25 years we have built over 300 instruments, for some of Australia's finest musicians including Richard Clapton, Phil Manning, Doug de Vries and James Sherlock.
Guitar making has become second nature to us and we are constantly calling on our experience to help our students build their instruments at our guitar making courses.
We're there to help and offer advice on every part of the guitar making process – from sharpening a thumbplane to bending a side – from explaining how a soundboard should be tuned to explaining the way a tree should be cut to yield the best tonewood.
We also help deal with any problems that students might come across during the building of their instruments and give advice about timber and design choices. If you have any questions about lutherie we will have the answers!
A SUMMARY OF OUR EXPERIENCE AS LUTHIERS


We have been building guitars for more than 25 years
We have taught over 50 students how to build their own guitar
We have built and sold over 300 instruments of many different styles
Our guitars have been played by many professional musicians including Richard Clapton, Phil Manning, Doug De Vries and James Sherlock
Our instruments have been stocked by several of the world's most prestigious guitar dealers including Guitar Salon International (USA), Gruhn Guitars (USA), Eldery Instruments (USA), Guitar Shop Aura (Japan) and Stafford Classical Guitars (UK)
We have traveled the world many times to examine countless guitars
Our guitars continue to be purchased by musicians and guitar connoisseurs in Australia and many other countries
Sean Hancock has trained in guitar making under Jose Romanillos, who is considered by many to be the last of the original Spanish master luthiers
Our guitars have been featured in many publications, for example a classical guitar by Dane was featured in Hand Made Hand Played, a book featuring the finest handmade guitars in the world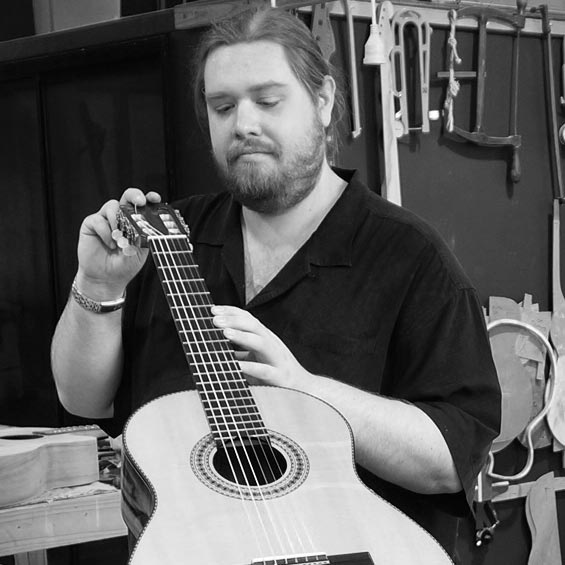 Dane started playing guitar when he was 11 years old. In the years he was learning guitar his father Kim was collecting and restoring guitars so there were many fine instruments around which Dane could play. Kim built his first guitar in 1992 with both Dane and his brother Sean.
ENGINEERING BACKGROUND
Dane kept lutherie as a hobby while studying at university, graduating with a Bachelor of Engineering. He worked for several years as a civil engineer but found it was not as creative a job as he could hope for, so he took up guitar making again as a full time job. His engineering skills have been of great value ever since, especially his knowledge of Computer Aided Design, which he uses on a daily basis for drawing instruments.
PLAYING GUITAR
Guitar playing remains one of Dane's favourite pastimes and that is where he gains many of his insights on how guitars function. He prefers electric guitar but he is also fond of playing acoustic and classical.
A WOODWORKING ANCESTRY
Woodworking has been practiced by Dane and Sean's family for several generations. Their great, great grandfather Arthur Collingwood was a well-respected cabinetmaker and artist who worked on many landmark buildings in London, England including West Minster Cathedral. Collingwood also authored a book on wood carving before immigrating to Australia at the start of last century. Dane and Sean have inherited their great, great grandfather's cabinet making tools which they use day to day to craft their instruments.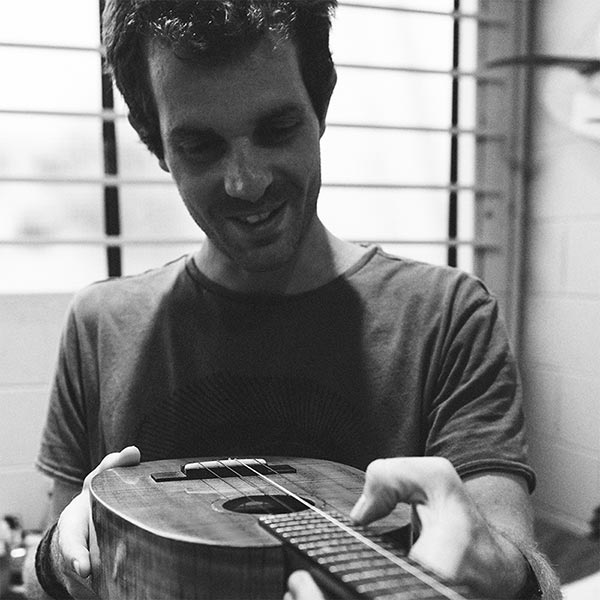 Sean started to learn how to make guitars while working with his father Kim in the family workshop. During his early years he fitted guitar work around his education and eventually gained bachelors degrees in product design and business. He won the Nescafe Big Break in 1997 for guitar making which included prize money of $20,000 which was used towards advancing the guitar making craft.
Sean enjoys playing acoustic and nylon-string guitar and his personal instrument is a flamenco guitar. He enjoys the creativity of being a luthier and the opportunities it offers to design new instruments and see them materialise. "There's a lot of scope for creativity and design working as a luthier, not just in the actual building of guitars but also the other aspects of the business, making templates, refining the workshop, even in the marketing"
SPANISH LUTHIER TRAINING
In 2007 Sean travelled to Siguenza, Spain to attend the Romanillos Guitar Workshop. At the workshop he was taught the Spanish method of classical guitar making from two of the world's greatest luthiers, Jose and Liam Romanillos. He has also travelled to the USA, UK and Japan to inspect the instruments of master luthiers.
TIMBER CUTTER ANCESTORS
Sean and Dane's ancestors, the Doherty family were prominent timber cutters and timber boat builders in Tasmania in the 19th century. They were among the original cutters of Huon Pine, which is a prized timber for fine cabinet and furniture making and boat building.