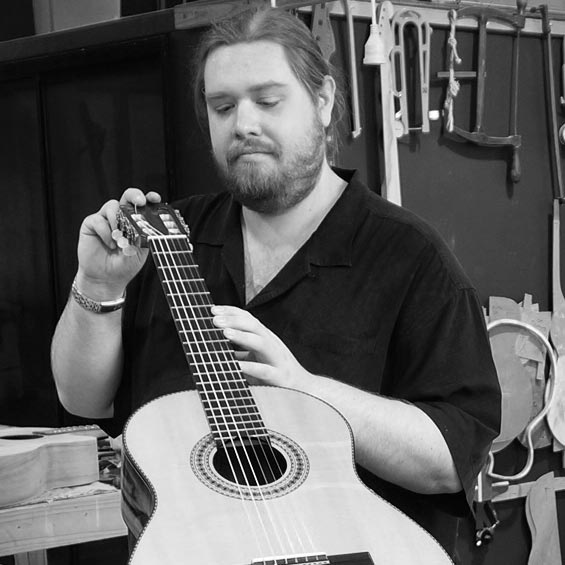 Dane Hancock
Dane started playing guitar when he was 11 years old. In the years he was learning guitar his father Kim was collecting and restoring guitars so there were many fine instruments around which Dane could play. Kim built his first guitar in 1992 with both Dane and his brother Sean.
ENGINEERING BACKGROUND
Dane kept lutherie as a hobby while studying at university, graduating with a Bachelor of Engineering. He worked for several years as a civil engineer but found it was not as creative a job as he could hope for, so he took up guitar making again as a full time job. His engineering skills have been of great value ever since, especially his knowledge of Computer Aided Design, which he uses on a daily basis for drawing instruments.
PLAYING GUITAR
Guitar playing remains one of Dane's favourite pastimes and that is where he gains many of his insights on how guitars function. He prefers electric guitar but he is also fond of playing acoustic and classical.
A WOODWORKING ANCESTRY
Woodworking has been practiced by Dane and Sean's family for several generations. Their great, great grandfather Arthur Collingwood was a well-respected cabinetmaker and artist who worked on many landmark buildings in London, England including West Minster Cathedral. Collingwood also authored a book on wood carving before immigrating to Australia at the start of last century. Dane and Sean have inherited their great, great grandfather's cabinet making tools which they use day to day to craft their instruments.