Options & Costs
You can build from several different shapes and styles of instruments at the Hancock Guitar Making Course. The prices are based on the complexity of the build, the time it takes and the materials used.
We are committed to helping our students build high-quality instruments at the course. You will leave the course having built a guitar or ukulele that's as good or better than a high-end American instrument, which would cost around the same amount of money to buy from a music shop
UKULELE MAKING COURSESACOUSTIC GUITAR MAKING COURSESELECTRIC GUITAR MAKING COURSES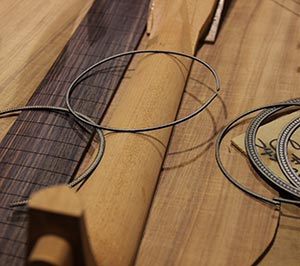 Materials
All tonewoods and other materials are included in the course fee.
We want you to build an instrument which truly reflects your tastes and personality. There's a lot of scope for choosing materials and customising the design of your instrument.
The timbers used will give the instrument its unique look and sound. We'll discuss the materials with you before the course begins and explain the characteristics of each timber so you can make an informed decision about what to use on your guitar.