Options & Costs
You can build from several different shapes and styles of instruments at the Hancock Guitar Making Course. The prices are based on the complexity of the build, the time it takes and the materials used.
We are committed to helping our students build high-quality instruments at the course. You will leave the course having built a guitar or ukulele that's as good or better than a high-end American instrument, which would cost around the same amount of money to buy from a music shop
UKULELE MAKING COURSESACOUSTIC GUITAR MAKING COURSESELECTRIC GUITAR MAKING COURSES
Ukulele (NEW)
Time – 1 WEEK
Cost – $1,750
If you would like the experience of building your own instrument but want to keep the time taken or the cost to a minimum, building a ukulele is a great way to go.
A ukulele can be built a little simpler than a guitar so you can finish it in a week rather than in the two it takes to build a guitar.
You will be learn many of the same techniques as building a guitar by building it's smaller counterpart.
You can build a Soprano, Concert and Tenor size in the traditional guitar or 'figure 8' shape or 'pineapple' shape. You will have a choice of timbers including the traditional Hawaiian Koa Wood, Australian Blackwood and Mahogany.
Advanced Ukulele (NEW)
Time – 2 WEEKS
Cost – $2,950
Build a ukulele exactly the way you want to with this advanced option.
The two week course allowed you more time for planning and more time for customising your ukulele. Take control of every aspect of the design of your instrument and add personalised inlays, binding and trim to make it truly unique.
You can build from a range of body shapes and sizes. We have templates for Soprano, Concert and Tenor sizes in both the traditional 'figure 8' shape and 'pineapple' shapes. You can even design a completely different body shape if you wish.
The timber is the core of a ukulele and you will be able to choose from a range of beautiful tonewoods including the traditional Hawaiian ukulele timber Koa Wood. Koa has been used in Hawaii for centuries and has become synonymous with ukuleles. It has a crisp musical sound perfect for uses and some of the most amazing grain and colour of any timber.
Other options for the timbers are Australian Blackwood and Maple, Mahogany, Rosewood and a selections of Spruces for the top.
Martin-style Acoustic Guitar
Time – 2 WEEKS
Cost – $3,850
Build a classic acoustic guitar in the style of a Martin Dreadnought or 000 fingerstyle model.
These models use traditional materials that have been used on fine acoustic guitars for decades. The tops are made from Sitka Spruce while the backs and sides are either Indian Rosewood or Brazilian Mahogany.
You will utilise some components which are partially shaped to build your guitar. This reduces the amount of work needed to complete the instrument and allows for a comfortable but challenging build.
The building of the Martin-style acoustic focusses on the tuning of the top and back plates to give the guitar an optimal sound as well as neck shaping, fretting, binding and setup. You will design a custom inlay which you will then cut from Mother of Pearl and set into the headstock of your guitar.
The parts which have some work already done are the top and back, which are joined, the sides which are bent and the neck which is rough shaped. These are processes which are time consuming but don't necessarily require the sort of fine work as the rest of the guitar building processes.
Advanced Acoustic Guitar
Time – 2 WEEKS
Cost – $4,150
The Advanced Acoustic offers a lot of scope to customise the style and materials of the guitar you build.
You can choose to build a Dreadnought, 000, Orchestra Model or Weissenborn lap-slide guitar. You can also add a cutaway to the body shape.
The aesthetic style of guitar you will build is very different from the Martin-style. The instruments are left free from edge binding and the same material is used for the top, back and sides to give the guitar a more modern, seamless look.
Unique and beautiful timbers can be used for the top, back and sides to give the finished guitar a stunning look. The most popular choice is Australian Blackwood while Mahogany, Hawaiian Koa or a number of other timbers can be used.
Unlike the Martin-style acoustic option, you will bend the sides of the guitar using heat and steam and you will also join the back and top. This makes for a more challenging build, but a build that can still be finished in two weeks. You will use a partly shaped neck to save the time it would otherwise take to cut a neck from a block of timber.
Custom Acoustic Guitar or Bass (NEW)
Time – 2-1/2 WEEKS
Cost – from $4,950
The Custom Acoustic Guitar option includes three extra days to allow for more a more complicated build. This extra time allows you to customise your guitar even more than with the Martin-style or Advanced Acoustic options
You can choose from a number of shapes including Dreadnought, 000, Orchestra and Weissenborn profiles. It is also possible to build an acoustic bass.
One key difference between the Custom Acoustic and the Advanced Acoustic is that you can have your choice of body bindings. Aside from making a more elaborate looking instrument, the use of bindings creates a visual border on the edges of the guitar. This border visually separates the top and back from the sides, allowing for the use of different timbers for each part.
Why not build a truly unique guitar by using your favourite timber? If you don't have a preference we can make some suggestions from our stock of timbers. We keep a variety of Rosewoods from Brazil, India, Honduras and Madagascar, Mahogany from Brazil and Africa, as well as many unique sets of Australian native timbers including Blackwood, Queensland Maple and Bunya Pine.
The Custom Acoustic is the most challenging option we offer and covers the most luthierie techniques. You will begin your guitar with a raw top, back and sides and can choose from using a partly shaped neck or cutting the neck from raw timber as well. Over the 2-1/2 weeks you will work away at the raw timbers forming them into a highly-refined, great sounding instrument you can truly be proud of.
The cost depends on the materials used. The starting price of $4,950 will cover most tonewood options. If you have a particular timber selection in mind please contact us about the cost and availability.
Fender-style Electric Guitar or Bass (NEW)
Time – 1 WEEK
Cost – $1,950
During this week long course you will build a Fender-style guitar in the design of either a Strat, Tele, J.Bass or P.Bass.
Choose from a range of colours, body and fingerboard material. You can also choose the pickups to give the guitar exactly the sound you want and the hardware to make it look and play amazing.
You will begin with a shaped and painted body and neck along with the hardware and electronics. During the 6 days you will assemble the body, neck and hardware, wire and solder the pickups and electronics and set the guitar up.
The Fender-Style is an excellent choice if you would like to focus more on the skills of guitar electronics and setup. You will learn the proper way to assemble a guitar, how to read wiring diagrams, soldering techniques, how to make a nut, and the art of setting up a guitar to perfection.
All the components are of the highest quality and made in the USA or Japan. This means you are building a guitar that is every bit as good as the high-end guitars sold in a music shop. Your guitar will also be setup to perfection and customised to suit your tastes and style of playing.
Advanced Electric Guitar or Bass (NEW)
Time – 2 WEEKS
Cost – from $2,950
The Advanced Electric option gives you the freedom to design a unique body shape and customise many other details of the guitar.
You will begin by choosing the timber for the body of your guitar, this can be a imported wood like Ash, Alder or Mahogany, or something Australian like Figured Queensland Maple or Australian Red Cedar. You will then profile, contour and route cavities, transforming the timber blank into the body of your guitar.
The shape of the guitar can be anything you can imagine. You can choose from any of the classic guitar shapes like Strat, Tele and Les Paul or design a completely unique shape. You can also customise the pickup combination, the position of switch, volume and tone controls and many other details of the body.
The neck is made from American Rock Maple and comes fretted and with the truss rod installed. You can customise the shape of the headstock and carve the neck to the perfect profile for you.
There are a wide selection of pickups available and you can choose the perfect type to give your guitar exactly the sound you want. You can install humbuckers, single-coil pickups or P-90s. You can also choose the pickguard shape, or not have a pickguard.
You can either mount a tremolo or a fixed bridge and can choose from a range of brands and finishes for the tuners and other hardware.
The cost for the Advanced Electric starts at $2,950, which includes high quality pickups and hardware from Gotoh Japan. If you would like another brand of pickups or hardware we can adjust the price to cover any additional cost.
Custom Electric Guitar or Bass (NEW)
Time – 2-1/2 WEEKS
Cost – from $4,500
Build a truly custom electric guitar exactly the way you want it.
The Custom Electric option is built from scratch, you will start with the raw timbers and transform them into the guitar of your dreams over the 2-1/2 weeks. You can choose the timbers, the shape, the style of hardware, you can even make your own pickups on our pickup winding machine.
You will begin by designing your guitar and making a plan. You can start with a classic shape or design your own shape. We will guide you through the design process and explain any important principles of guitar design that you need to consider so that the finished guitar plays and sounds great. You can choose from a bolt-on, through-body or set neck, tremolo or fixed bridge and any number of combinations of pickups and controls.
Once you have your guitar planned out you will cut, route and and shape the body using a range of electric and hand tools. You'll make a fingerboard and neck, install a truss rod and frets. After the body and neck are made you'll assemble the guitar, solder the pickups and wiring and then install the hardware and set it up.
There is an almost endless array of timbers you can use for the body and neck of your guitar. You can stick to the traditional timbers like Ash, Alder and Maple or go with something Australian, such as Quilted Queensland Maple or something exotic like figured European Maple. The fingerboard can be a focal point in itself and there are a lot of amazing timbers you can use for this, you can also incorporate custom pearl inlay to add an extra level of customisation to the instrument.
You can choose from a range of pickups or make your own pickups. Making pickups is a challenging process, patiently winding thousands of coils of copper wire no thicker than a hair. This experience in itself is very satisfying, especially when you hear the tone coming from your own hand-wound pickups.
The cost of the Custom Electric starts at $4,500. The cost is determined by the timbers, hardware and pickups used.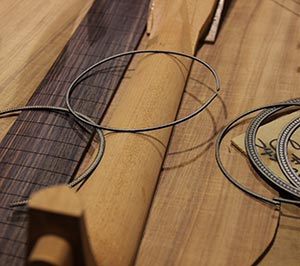 Materials
All tonewoods and other materials are included in the course fee.
We want you to build an instrument which truly reflects your tastes and personality. There's a lot of scope for choosing materials and customising the design of your instrument.
The timbers used will give the instrument its unique look and sound. We'll discuss the materials with you before the course begins and explain the characteristics of each timber so you can make an informed decision about what to use on your guitar.